Fidel Vidal was born on March 3, 1981 in CDMX but actually all his life he has lived in Mazatlan Sinaloa, he is a fishing writer and expert in digital marketing strategies and marketing of adventure tourism and fishing.
He specializes in writing articles for blogs that focus on the dissemination of national and international places and fishing from an advertising approach.
Since January 2021 he is Co-Founder of Nomnday Fishing in Mexico, a Start Up company dedicated to the marketing of sport fishing services in the world, where he also serves as Director of Marketing and Opening of fishing spots.
Studies
He has multiple studies and trainings in Digital Marketing, e-Commerce, advertising campaign strategies, data analysis among others.
Publications
Article for blog "The great circuit of bass fishing in Sinaloa" – 2021.
Awards
Each of the catches he has had.
Fishing spots implemented
He has been responsible for the development of marketing strategies, image, promotion for the sale of sport fishing services in:
Lake El Salto
Offshore fishing at Cabo San Lucas
Expertise
2016-2021. Co-Founder of Digital Marketing agency AwiwiChannel
2019-Actual. Co-Founder of Sulasula.mx, agency for sales of tourism experiences and short-term vacation rentals.
20221-Actual. Co-Founder of Nomonday Fishing in Mexico, platform for the promotion and sale of all-inclusive fishing services.
Personal Life
Sport fisherman, lover of having a good time, promoter of fishing in Mexico and firm believer of the catch & release model. He speaks 2 languages (Spanish and English) but makes himself understood by everyone.
His favorite fishing spots are: Picachos Dam, Aguamilpa Dam, and as a good "pata salada" the port of Mazatlan.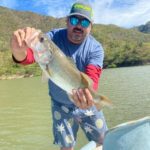 Promoter of fishing in Mexico, co-founder and director of the area of marketing and opening of fishing spots and specialist in digital marketing for adventure tourism and fishing.