Experts working on Tinder, the most popular dating platform in the world, found that uploading fishing photos tend to work "surprisingly well" as they increase the number of matches on your profile, mainly for men.
It is not known exactly how much it can increase, but what is known is that the increase is greater than the average increase with other types of photos.
¿Why does this happen?
Because fishing involves aspects of your personality that make you attractive. That is, fishing increases your social value by sending these three signals:
1) The man who likes the outdoors and going out to lakes and the sea is adventurous, and adventure is one of the most important attractions that women notice.
2) Anglers like to fish with friends. This reflects that you are sociable and popular, two important aspects that increase your social value and therefore your attractiveness.
3) Going fishing is not cheap, it is an activity in which money and time are invested. Trips, boats, equipment, grilled meats, cooler full of beer, etc. This is perceived as having enough income to pay for the sport. That also increases your attractivenes.
Crazy Theories
Doing a quick screening on this topic of "double fishing" (your catch and your flirt) we came across some crazy theories, surveys and results.
For example, in 2016 the fishing app FishBrain published a survey of 1,000 college women, all members of Alpha Epsilon Phi sororiti members.
The results showed that: "46% of young American women (in their late teens and early to mid-twenties) find Tinder photos of men holding a fish more attractive than those of men withoutm it!"
FishBrain went even further and asked what was the most attractive fish to hold in a photo (they only focused on sea fishing). These were the results:
Great Northern Tilefish: 21%
Sailfish: 18%
African Pompano: 16%
Red Grouper: 12%
King Mackerel: 9%
American Red Snapper: 8%
Pargo Rojo: 8%
Hog Fish: 5%
Barracuda 3%
Juvenile Common Carp: <1%
On the other hand, there is a crazy theory going around, we'll call it "the caveman", which is nicely summarized in a report in the NyPost: "Determining Tinder matches by their catch-of-the-day might sound superficial. But relationship gurus believe that this behavior is rooted in the instinct to judge a potential partner's ability to put food on the table — the logic being: the bigger the fish, the more adept its provider".
The topic itself and these theories make for some great memes. Here is one I got from the internet.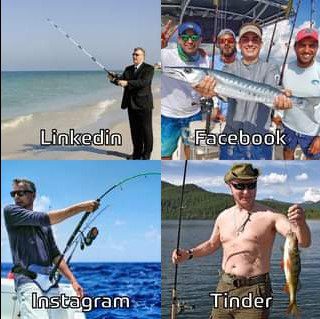 So why do anglers upload fishing photos to their social media and dating platforms?
Now, with these Tinder results, many will upload fishing photos to flirt, but if you analyze the articles related to the topic, fishermen use two different reasons than just flirting to do it.
The first one is to put into practice an "elimination mechanism" that practically points out that if it is a person who loves fishing will devote a good part of his time to it, if the other person is not willing to accept that the time that is supposed to be shared with him should be shared with fishing, then it should not enter into the plans to make a match.
The second reason, simpler, and where I think we all agree, is defined by an angler, John Prioli, in an interview for The Cut: "I use fish pics because I'm usually happiest in them," he says. "It's the culmination of waking up early (or going out late), busting your ass to get out there, bringing the right gear, presenting the fish with the right bait or lure in the right place and time and finally just being able to hold the animal for a while and take a photo."
This second reason does not go directly to the possibility of flirting, but it is the expression of a complete and satisfied person which undoubtedly increases its social value to get friends of any kind.
And last but not least, a natural question arises: What will men think of pictures of fisherwomen on Tinder? How much of an impact does it have on men to match them? The answers are yet to be written, meanwhile the nomonday.mx team is dying to do some surveys about it.